Correction: Director James Wan confirmed via Twitter last night that what was mistaken to be an official teaser poster for Fast And Furious 7 featured below on the actor's twitter feed is a fan-made poster and is NOT the work of Universal Pictures. Kudos to the mysterious artist who managed to catch everyone's attention. (Thanks to Awi Suryadi for the heads-up!)
Ok, the Fast7 teaser poster isn't real, but is a cool fan-made one.
— James Wan (@creepypuppet) January 22, 2014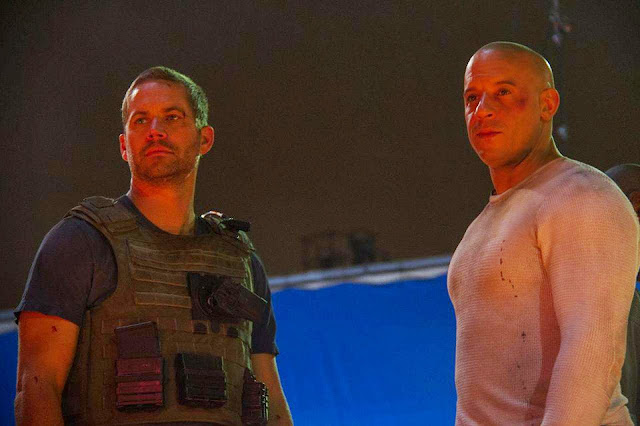 Actor Vin Diesel took to a heartfelt tweeton Tuesday to unveil the latest teaser poster for the rescheduled April 10, 2015 release date of the action packed follow-up, The Fast And The Furious 7. The poster comes as the film marks the final franchise appearance of late actor Paul Walker who died tragically on November 30, 2013 while on holiday break as the film was in the middle of shooting.

The film is expected to illustrate the final send off that that will "retire" Walker's character "Brian O'Connor", in a way that will allow the franchise to continue, since Walker launched the successful franchise with much of the recurring cast starting in director Rob Cohen's 2001 hit, The Fast And The Furious. Walker's last completed film in the franchise, Furious 6, is now available on DVD, Blu-Ray and VOD as one of several films starring the late actor with proceeds going straight to his organization, Reach Out Worldwide (ROWW).
The Fast And The Furious 7 is directed by James Wan and stars Diesel and Walker with Jordana Brewster, Michelle Rodriguez, Tyrese Gibson, Christopher Bridges, Lucas Black and Dwayne Johnson, with Jason Statham, Nathalie Emmanuel, Tony Jaa, Kurt Russell, Djimon Hounsou, John Brotherton and Ronda Rousey. The film is produced by Neal H. Moritz from a screenplay by Chris Morgan.
Native New Yorker. Lover of all things pizza, chocolate, pets, and good friends. Karaoke hero. Left of center. Survivor. Fond supporter of cult, obscure and independent cinema - especially fond of Asian movies and global action cinema. Author of the bi-weekly Hit List. Founder and editor of Film Combat Syndicate. Still, very much, only human.