Following its production in Malaysia, Venice and Kazakhstan, The Toronto Sun debut a handful of five new official promo photos for the forthcoming Netflix series premiere, Marco Polo. Actor Lorenzo Richelmy stars in the title role, as the famed 13th Century sailor on his journey from Venice to China.
The series comes from executive producer and creator, John Fusco, whose vision for the series is best described as a story filled with "sexual intrigue, political manoeuvring and father-son drama", infused with martial arts action. Fusco spoke to The Toronto Sun in a recent interview with Sean Fitzgerald, where, among other things, desrcibed the genesis of the series. "On that trail, while we were all talking about the history of the Khan Empire, every now and then Marco Polo's name would come up…" said Fusco. "And as I was on horseback, riding across, you have those long hours of riding across vast steppe, you daydream, you think. And it just all sort of came together. I felt, 'This is the time to do Marco Polo.' "
Among the cast are The Man With The Iron Fists actress Zhu Zhu stars as Polo's love interest Kokachin, along with Prometheus actor Benedict Wong who plays Emperor Kublai Khan and Twin Peaks co-star, Chinese actress Joan Chen portraying Khan's wife Chabi Khatun. Marco Polo will premiere its 10-episode duration on Netflix at approximately 12:01am on December 12, 2014.
Fusco
also provided the screenplay for
Crouching Tiger, Hidden Dragon 2: The Green Destiny
, which is currently in production for next year's release. In the meantime, check out the photos below, as well as the rest of the interview
HERE
!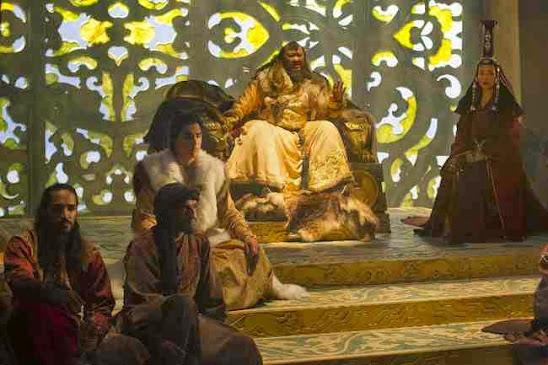 Like this Article? Subscribe to Our Feed!
Native New Yorker. Lover of all things pizza, chocolate, pets, and good friends. Karaoke hero. Left of center. Survivor. Fond supporter of cult, obscure and independent cinema - especially fond of Asian movies and global action cinema. Author of the bi-weekly Hit List. Founder and editor of Film Combat Syndicate. Still, very much, only human.